COVID-19 Lowers Interest Rates, Should You Refinance? April 8, 2020

The novel coronavirus, COVID-19, is wreaking emotional, physical and financial havoc around the world, including in the Morongo Basin desert community. While the attack on our health is obvious, it's also having a cascading economic impact. Can anything good come from COVID-19? Surprisingly, yes!
COVID-19 has Lowered Mortgage Interest Rates
On March 15, 2020, the Federal Reserve lowered the prime rate to 0% to 1/4% in response to the coronavirus outbreak. Their press release added "the Committee expects to maintain this target range until it is confident that the economy has weathered recent events and is on track to achieve its maximum employment and price stability goals."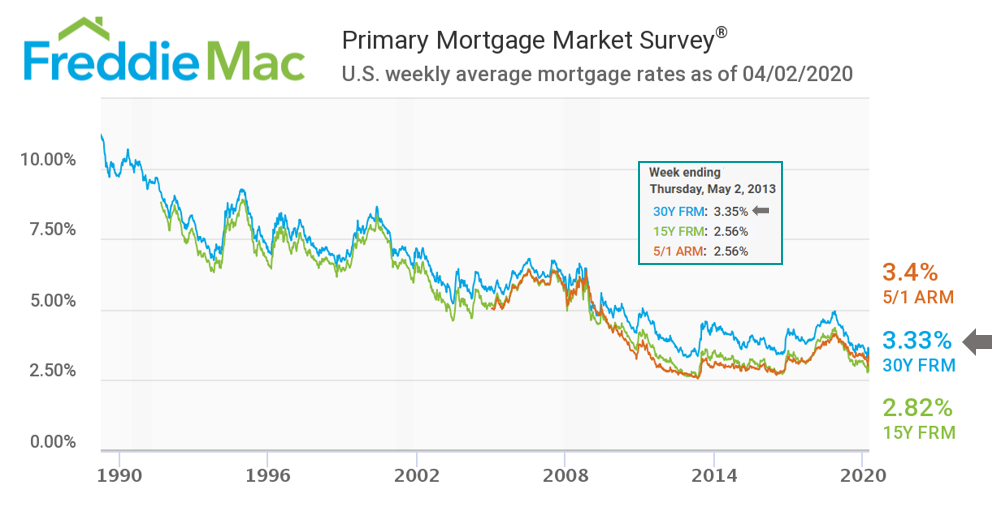 The drop in the prime rate has affected the mortgage market. According to Freddie Mac's Primary Mortgage Market Survey completed on April 2, 2020, the average 30-year fixed mortgage rate is now at 3.3%. This is the lowest rate in 30-years.
While Freddie Mac states interest rates are at 3.33%, the real-world reality is that lenders are advertising rates at around 3.50%. Why the increase? This is to slow down the demand for mortgages and to keep all 94 million homeowners from racing to their lender.
Should I Refinance My Mortgage?
With mortgage interest rates this low, this question bears consideration. Consider the top five reasons to refinance your home loan.
1. You plan to own the property for at least another 5 years. Closing costs for your mortgage refinance average between 2% to 6% of the loan principal. It can take several years to recoup the cost in interest savings.
2. You can reduce your interest rate. "If you can shave one-half to three-quarters of a percentage point off your mortgage rate by refinancing, you should look into it," says Greg McBride, CFA, chief financial analyst for Bankrate.
3. You are paying private mortgage insurance (PMI). To remove the mortgage insurance, you may need to pay for an appraisal, which is also needed for a refinance. Why not reduce your loan costs and refinance now?
4. You want to pay off your loan faster. With a sizable interest rate savings, you may be able to refinance from 30 years to 15 years without much of a payment increase. This will save tens of thousands of dollars in interest over the course of the loan.
5. You want to consolidate debt. If you have a home equity loan at a higher interest rate, why not consolidate both mortgages into one low-rate fixed loan.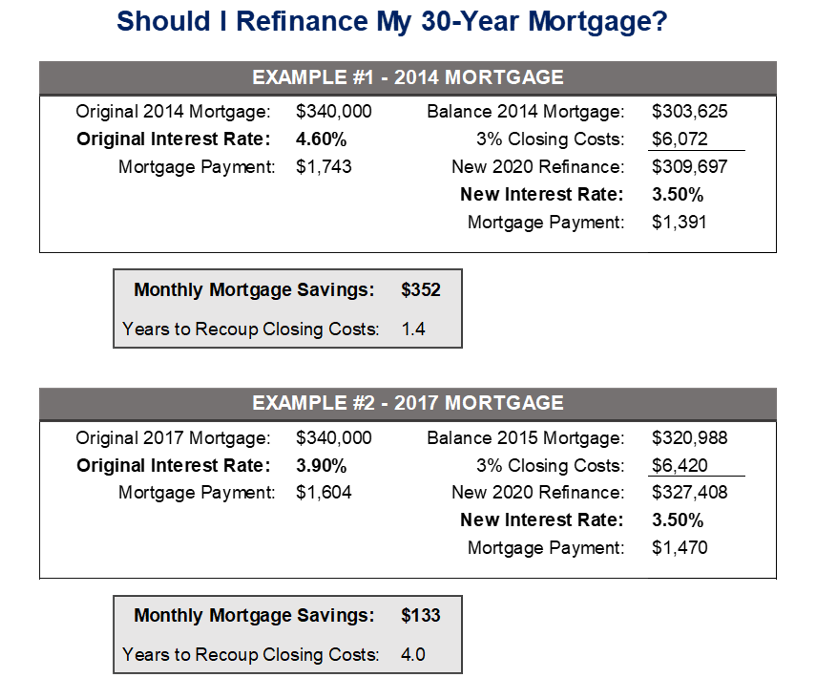 How Will COVID-19 Affect My Loan Refinance?
If you decide to refinance, the coronavirus may have a say on when you can do it. Most states, including California and Riverside County, have mandates to stay at home to prevent the spread of COVID-19. This will delay your ability to begin the refinance process.
Not to worry, you have several options. First, check to see if you can refinance online with your current lender or local bank. Second, expect interest rates to drop some more in the coming future as restrictions lighten and the government tries to spur more economic activity. Either way, with rates this low, a mortgage refinance is a great way to reduce your monthly expenses.
Contact Us
If you have any questions about interest rates or real estate, feel free to reach out. We will happily assist you with all your Morongo Basin real estate needs. Whether you are looking to buy or sell a property in Joshua Tree, Yucca Valley, Pioneertown, or any other Hi-desert area, you can contact us at (760) 553-5306. Or you can email us at seandittmer@gmail.com and we'll get back to you as soon as we can.